And how designer & innovators could do it right
There is a lot of discussion going on about ethics in Tech, Design, innovation, etc. many of them revolve around (legitimately) the societal consequences of companies' decisions. One of the logical steps is to look for public institutions and our politics to intervene, regulate, etc. but institutions are slow and mainly work through systematic audits & expensive fines to incentivise change in behavior. How does it even apply to innovations?
Another perspective would be to address the subject by involving organisations directly, and, for instance, see how we can transition businesses to different models that help them make better ethical decisions. Here, the logical step is to establish a "code of ethics" or other forms of deontological approaches, but who will enforce them?
Ethics in organisations is usually approached as a compliance issue, mainly to avoid company exposure and reputational risks. This makes the discussion bounded to existing rules, not challenging or, worse, maintaining the status quo. We can therefore see companies investing in compliance programs and efforts to be more environmentally responsible. But more often big gaps still exist between these efforts and the core business activities, which creates a very disjointed picture: a company may be praising its efforts to reduce carbon emissions, while simultaneously funding trade associations that lobby against climate change efforts.
Meet Alison Taylor and Charles Paré, who will share perspectives on both strategic and practical approaches to ethics & sustainability in organisations.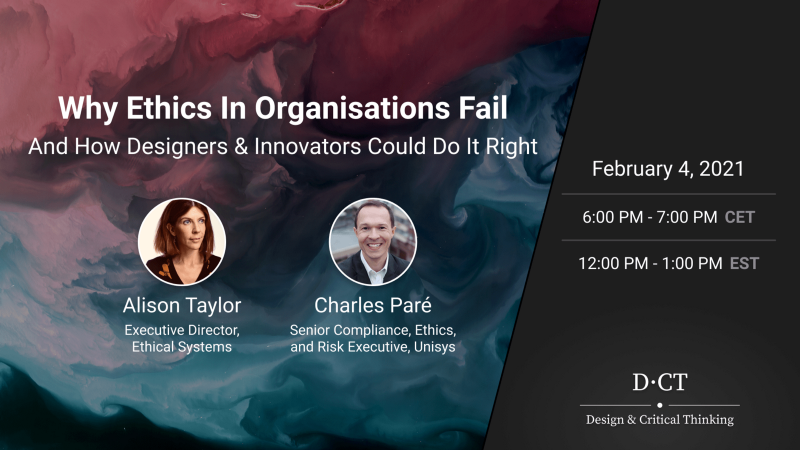 ---
🌟 Alison Taylor is Executive Director of Ethical Systems, Senior Advisor at Business for Social Responsibility (BSR), and Adjunct Professor at NYU Stern School of Business. She has extensive experience consulting for multinational companies on risk, anti-corruption, sustainability, human rights, culture and behavior, stakeholder engagement, ESG, and ethics and compliance.
Alison Taylor - Executive Director - Ethical Systems | LinkedIn
I work on challenges at the intersection of corporate integrity, risk and responsibility. I'm the Executive Director of…www.linkedin.com
🌟 Charles Paré is Senior Compliance, Ethics, and Risk Executive at Unisys, an information technology company specialised in security related software & services. Prior to Unisys, Charles served for five years as Head of Ethics & Compliance EU-West at Philip Morris International, supporting colleagues in various markets, factories, and shared-service-centres with the transformation of the Company and the launch of new modified-risk-products. Before that, he held various positions in Ethics & Compliance with global responsibility for risk management and the deployment of new technical solutions.
Charles Paré - Head Compliance Advisory - Unisys | LinkedIn
Senior Compliance, Ethics, and Risk Executive: results oriented problem solver, with extensive experience in securing…www.linkedin.com
---
👋 Don't miss our future events and subscribe to our Meetup group 👇
Design & Critical Thinking (Genève, Switzerland)
Design & Critical Thinking aims to build shared understanding, collective knowledge & sensemaking through a community…www.meetup.com